"The brands that can connect with the client in a real way will win." – Gary Vaynerchuk
The power of MusclePharm's brand
I have been a fan of Gary Vaynerchuk ever since I first heard him speak, a few years have passed and I now look at companies that are winning in the age of social. MusclePharm is a company that stood out to me on twitter before I knew the company was publically traded. Cory Gregory (@musclepharmpres) in an incredible storyteller on twitter, he attracts many retweets and responses of fans looking for recognition. Gregory is the face of MusclePharm and creates branded workouts and diet plans that create a lot of brand recognition.
MusclePharm has a list of all-star endorsement deals including superbowl winning quarterback Colin Kaepernick, UFC Middleweight champion Anderson Silva, rap superstar Flo Rida, and most recently Arnold Swarzeneggar. September 2013, the Arnold Series will launch with eight new products.
With a combination of twitter and Facebook interaction with fans, MusclePharm is building a strong online presence and more importantly, emotional context to the brand. The supplement industry has extremely low barriers to entry and from my experience, low brand loyalty among consumers.
What I Have Learned from MusclePharm
Work with human nature. We are social beings that love recognition and to talk about personal achievement. MusclePharm has grown their online presence by taking advantage of human nature. Everyone complains how people love to tweet every meal they eat or whenever they workout, but that's not going to change. The businesses that embrace that behavior will win. With giveaways, images of workouts with MP logos their brand is using the social web of connection. When I search for a good shoulder workout on twitter (since I have my phone with my while working out anyway) and a simple one page image comes up with Laron Landry that I can screenshot and refer to, I'm going to use that every time I need a shoulder workout. Then every time I work out, I'm going to think of MusclePharm.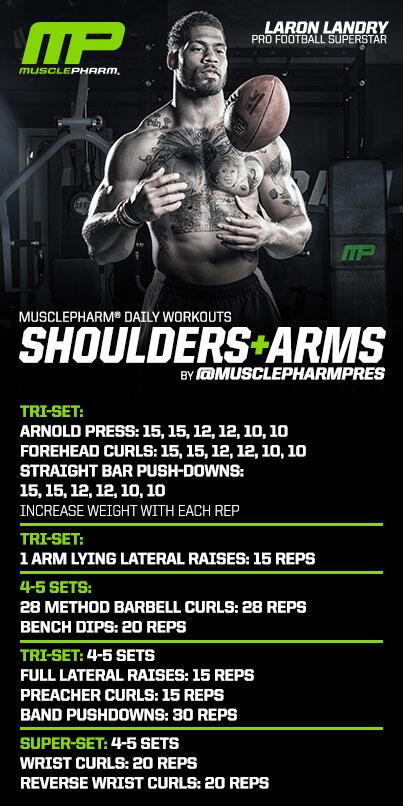 Disclosure: I am an investor of MusclePharm